12 Ball Wash Drill
This drill teaches back row attacking and how to defend back row attacks.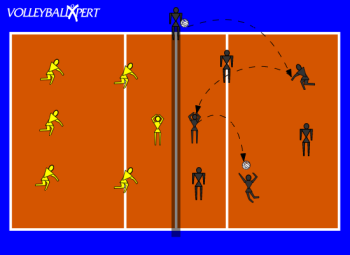 Setup
One team on each side of the net. Coach starts by tossing a ball into play.
Instructions
1. Explain that they are playing a volleyball game, but ONLY the back row players are allowed to attack.
2. Must win 2 points in a row in order to rotate.
3. Coach alternates sides with free ball toss in.
4. Team that completes an entire team rotation first wins.
Variations
1. To speed up game only require one point before rotating.
2. For advanced players, may require more then two in a row before rotating. Advanced players or teams may be able to do 5 in a row before having to rotate.
3. Allow more advanced players to serve the ball into play instead of a coaches toss.
Coaching Points
1. Make sure players who are attacking from back row, leave the ground from behind the ten foot line.
View Count: 33921