3 Skill Pepper with Partner
Advanced pepper game where players pass and set to themselves before down balling it to their partner.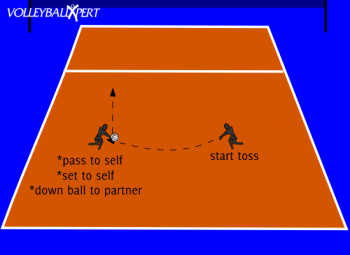 Setup
2 players and a volleyball
Instructions
1. Start with a toss to your partner.
2. First player passes it up to themselves, sets it to themselves, and then down ball hits it to their partner.
3. Partner does the same: pass, set, down ball to partner.
4. Continue until the ball hits the ground.
Variations
N/A
Coaching Points
1. Make sure the players are passing it high enough to be able to set it.
2. Snapping of the wrist is important for hitting the down ball.
View Count: 15872