Back Row Attacking Drill
This fast paced drill will focus on back row attacking from behind the ten foot line.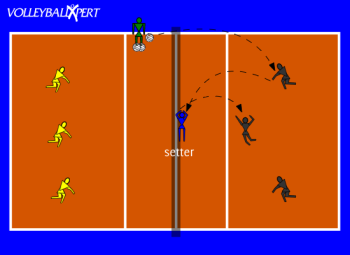 Setup
1. 3 Back row passers on each side of the net
2. A setter to be shared between both courts
Instructions
1. Coach gives either side a free ball.
2. Players pass, set, and hit ONLY from behind the ten foot line.
3. Play the ball out.
4. Setter must duck under the net to set for both teams.
5. Teams can keep score to make it more competitive.
Variations
1. Can start the drill with a serve from either team.
Coaching Points
1. Make sure the players understand they must leave the ground from behind the ten foot line in order for it to be considered a "back row attack."
View Count: 18585