Ball Control: Pass, Set, Downball
This volleyball drill teaches how to hit a down ball to a desired location as well as work on communication skills between players.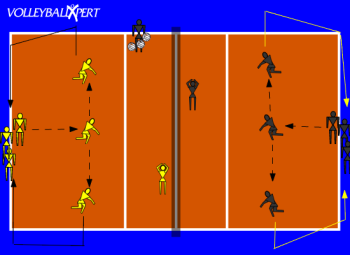 Setup
1. Three passers per side
2. One setter per side
3. Coach tossing in free balls
4. A line in middle back of the court waiting to rotate in
Instructions
1. Coach initiates drill with free ball toss.
2. Players pass and set
3. If the setter sets to a right or left player, that player down ball hits it to the other side and rotates off to the line
4. If the setter sets to the middle player, everyone stays for the next ball, no one rotates off
5. Other side of net plays the same way
Variations
1.Can do back row attacking instead of hitting down balls
2. Can start with a serve instead of a free ball toss, could also make a serving line too instead of setting up both sides for passers
Coaching Points
1. Encourage players to down ball hit to a specific location
2. Watching players to make a meaningful choice of where the ball should go
View Count: 23423