Blocking: Net Decision
This drill teaches blockers when to block, hit an overpass, or back off the net and pass.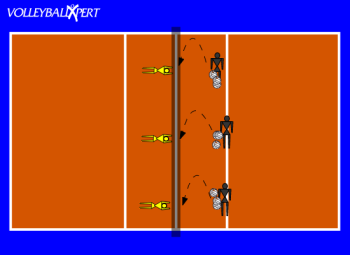 Setup
1. Three tossers on one side of the net
2. Three blockers on opposite side of the net
Instructions
1. Tossers toss the ball over the net to the blockers
2. Blocker must decide whether to block the ball, step back and pass, or hit the ball
3. Reset blocker and repeat
4. Tossers must change tosses: close on the net, on top of the net, over the net, etc. This allows blockers to make different decisions on what to do.
Variations
1. Add a second blocker for a double block
2. Make the middle blocker shuffle to outside hitters to form a double block
Coaching Points
1. Blockers hands positions should be ready at all times
View Count: 39945