Cross Court Pepper
This warm up drill practices ball control over the net with a partner.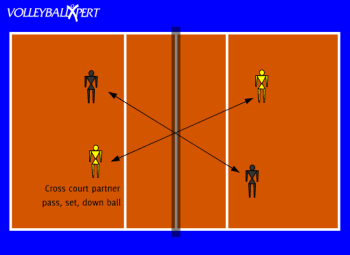 Setup
1. Two players cross court from each other on opposite sides of the net
Instructions
1. One player initiates drill with a down ball to their partner
2. Partner must pass to self, set to self, and down ball back to their partner
3. Continue pepper pattern for a set time
Variations
Players must take an approach and hit a controlled ball to partner.

Players must receive the first contact overhead and hit the second contact.

Increase difficulty be spreading the players farther apart.
Coaching Points
1. Making sure players are going cross court and facing their target
View Count: 33571