Defense: 4 Corner Pit
This is a defensive drill to help teach aggressiveness with players.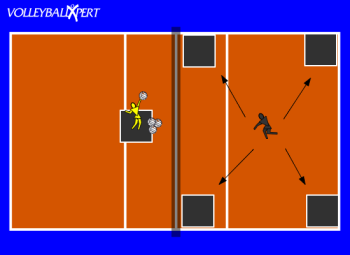 Setup
Four marked corners of one side of the court (floor tape)
Coach standing on box on opposite side of the net
Defensive player in middle of receiving side of court
Instructions
Coach or player hits off of a box to any of the four corners.

Player must contact each ball before it hits the ground.

Continue drill for a set amount of time, a set number of balls, or touches.
Give penalty for any ball that lands within one of the four corners.
Note: The person on the box has the control of the difficulty of the drill. Going slow will focus on the contacts, the faster you go the more conditioning becomes involved.
Variations
Two Players, with faster ball entry.

Coach may tip or down ball to corner instead of hitting.
Coaching Points
Have defense player calling the ball every time they pass
Ready position, on toes, quick to react and move to ball
View Count: 89481