Double Block Attacking Drill
This blocking drill teachers players how to face a double block.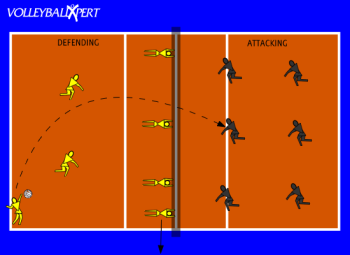 Setup
1. 6 players on one side (attacking side)
2. 4 blockers, one server and two defenders on opposite side (defending side)
Instructions
1. Start with the defending side serving
2. Defending side starts with 4 blockers on the net
3. If attacking side gets the ball past the block, then the defending side plays the ball out
4. The fourth blocker (right side) steps off the court to get out of the way of the offense and returns to court when ball goes to attacking side
5. Give the attacking side a goal to meet: 3 out of 5, 7 out of 10 etc.
Variations
1. Change sides for the 4th blocker
Coaching Points
1. Watching correct blocker positioning with footwork and hands
View Count: 22217