Double the Number
This is a ball control drill that starts in partners and eventually ends with the whole team passing/setting together.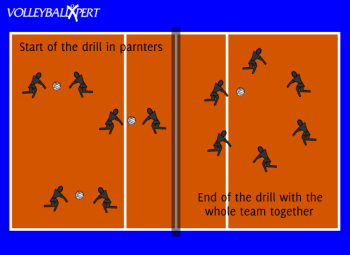 Setup
Players get a partner and one volleyball
Instructions
1. Each partner group spreads out and starts to pass or set back and forth together.
2. When the coach blows the whistle, two partner groups combine to make four players and they continue to pass/set.
3. When the whistle blows again, the group of four, adds two more players to make a group of 6.
4. This continues until the entire team is passing and setting as one big group.
Variations
*Coaches can make it a certain skill. For example, only setting, or only passing.
Coaching Points
*Encourage players to keep track of how many touches they get in a row before the ball hits the ground.
View Count: 33218