Net Save Drill
This drill is to teach the defender how to dig the ball out of the net on the return.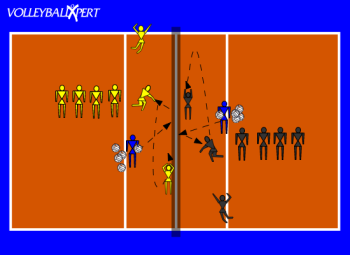 Setup
1. Two lines of players on each side of the net.
2. One setter and hitter on each side.
3. Coach who will be throwing volleyballs into the net, one on each side.
Instructions
1. Line up a group of players on each side of the net.
2. Each court needs a setter and a hitter to start the drill.
3. The coach throws the volleyball into the net, and the defender tries to pass the ball up to the setter, who sets the ball to the hitter (just catch the set).
4. A point is rewarded to the team if the set ball is able to be hit.
5. Play a game to 5 to 10 points depending on skill level of players.
6. Coach on opposite side of net alternates throwing ball into the net for the other line of players.
7. This allows the drill to be played simultaneously, allowing for team competition.
Variations
1. For more advanced players, they can rotate from passer to setter to hitter.
2. After they pass, they can take the setters spot, who can take the hitters spot, who can go to the end of the passers line.
Coaching Points
1. Encourage players to stay low to the ground and read to move.
2. Can throw the ball into the net at different points to make passing up the ball more difficult.
View Count: 26503