Offense Kill Drill
This drill will practice the importance of terminating the ball by a hitter (getting a kill).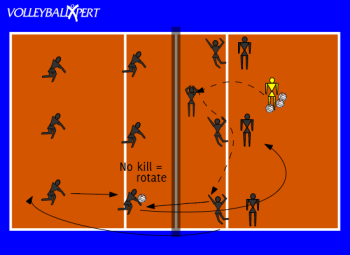 Setup
1. 3 hitting lines on the offense side with one setter
2. 3 back row defensive players on defense side
3. 3 front row defensive players on defense side
Instructions
1. Coach tosses ball to setter
2. Setter sets to one of the three hitters
3. Hitter approaches and attacks ball aggressively
4. If the hitter puts the ball away (kill) they stay on the attacking side and get one point
5. If the hitter does not put the ball away, they rotate off and onto the back row of the defensive side
6. The back row player moves to front row defensive player, and the front row player moves to hitting lines on the attacking side
7. Play to a predetermined number of points.
Variations
1. Let the defensive side play out the ball
2. Play where the attackers hit in a specific order and hit a specific set
Coaching Points
1. Explaining the importance of the kill! Not allowing the opposing team to have a chance at a side-out point.
View Count: 40261