Passing out of the Net
This drill will help players learn how to pass balls that are coming off the net.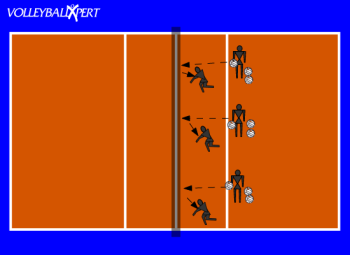 Setup
Three passers across the net about the ten foot line
Three tossers that are behind each passer
Instructions
Passers start in a low position facing the net.

Tossers through a ball over the Passer's head and into the net.

Passer drops low keeping platform extending and passes the ball.
Variations
Tossers hit down balls or serves into the net.


Coaching Points
Explain to players that depending on where the ball hits the net at, depends on where the ball will fall.
Top of the Net:


Ball goes straight down.


Middle of the Net:


Ball kicks out slightly.


View Count: 35938

Top Volleyball Drills

Browse our fun youth volleyball drills for kids to get ideas for your next volleyball practice.

Volleyball Drills by Age

Browse Volleyball Drills