Quick Setter Transitioning Drill
This fast paced drill is to teach the setter how to quickly transition to the net.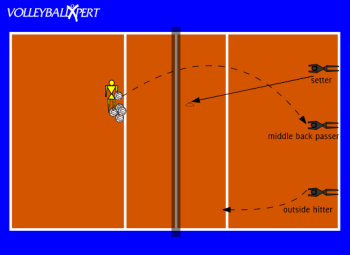 Setup
1. 3 players laying face down on the serving line: a setter, middle back, and outside hitter
Instructions
1. Coach will slap the ball as a signal to stand up quickly, and toss the ball to the middle back player.
2. Setter quickly transitions to the net and prepares to set the passed ball.
3. Middle back makes a pass to the setter, who sets to the outside hitter, who hits the ball over the net.
4. Players rotate lines, except for the setter, Setter re-sets on serving line.

Variations
1. Can keep score of how many good hits are over the net and in bounds.
Coaching Points
1. Allow players to rotate lines, between the passer and hitter lines.
2. Switch out setters often.
View Count: 28616