Serve Receive Lines
This drill will allow players to practice serving straight across the court and also help with serve receive.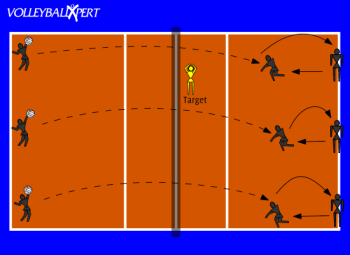 Setup
1. Three servers across end line of one court
2. Three passers across from the three servers
3. Three passers ready to rotate in
Instructions
1. Servers serve straight across from them to their passer
2. Passers attempt to pass to target and then rotate off court
3. Next passer rotates in to passing position
4. Server serves straight across to new passer
5. Continue patter of serve, pass, rotate off
Variations
Compete between the three groups, first group to a certain number of passes wins. Be sure to rotate passing lines between games so passers are receiving serves at different places on the court.

Compete against the clock, between groups or entire group. The group or groups must get a certain number of good passes before time runs out.
Coaching Points
1. Encouraging passers to switch lines to practice serve receive from different areas on the court.
View Count: 40850