Setters vs. Passers Game
This is a game situation drill which allows setting only for one team and passing only for the other team.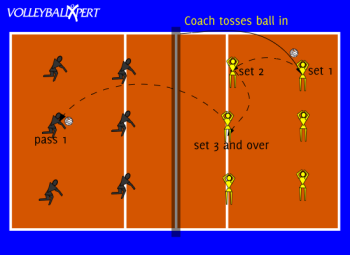 Setup
Two teams of six each on their own side of the net.
Instructions
1. Coach specifies which team is passing only and which team is setting only.
2. Coach tosses the ball into play encouraging players to get three touches on the ball and send it back to the other team.
3. One team is focusing on setting only (overhead passing), while one is only allowed to pass.
4. Keep score just like you would in a real game.
5. Switch passing and setting teams half way between game or drill.
Variations
1. Allow more advanced players to start the game with a serve.
Coaching Points
1. Coach can encourage team to use all three touches before sending the ball over the net, or allow them to use less then three.
View Count: 31926