Setting Game
This simple drill helps ALL players on a team develop the overhead pass or set.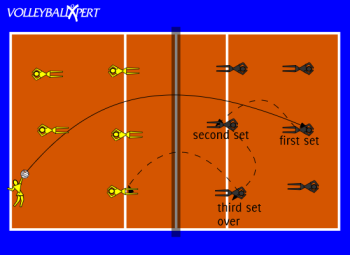 Setup
Six players on each side of the net, coach on the ten foot line tossing balls into play
Instructions
Coach tosses a ball into play and players are only allowed to use the overhead pass or set. Three overhead passes and then the ball must be sent over the net to the other team. Regardless of what position a player is in, they will ONLY use the overhead pass. This also helps for their teammates to make sure they are overhead passing the ball high enough for their teammate to get under it. Low passes will not work.
*Some coaches find it helpful to keep score, just as if they were playing a real game.
Variations
*Coach can allow teams to play three touches or less. This would allow players to look for holes on the other side of the net and if possible pass the ball over the net to that hole on the first or second touch too, resulting in a point for their team.
Coaching Points
*For more advanced players, allow server to serve ball into play before the setting begins.
View Count: 24103