Volleyball 24 Touches - Ball Control
This drill is to practice ball control as a warm up to hitting, while working on communication and teamwork between players.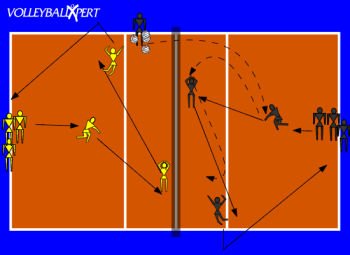 Setup
1. Passer, setter, outside hitter per side
2. Line in middle back waiting to enter
3. Coach tossing in free balls
Instructions
1. Coach tosses free ball to middle back player
2. Middle back passes to setter and follows the ball to become the next setter.
3. Setter sets the ball to the outside hitter, then follows ball to become the next outside hitter.
4. Outside hitter down balls over the net and goes to the end of the line on their side of the court.
5. Team is working together to get 24 touches in a row! If the ball hits the ground, the count starts over.
Variations
1. Can decrease or increase the touch number to make drill easier or more difficult.
Coaching Points
1. Coach should encourage players to count the touches out loud for the team to hear.
View Count: 40050