Volleyball Back Row Attack: Ping Pong
This ball control drill is designed to teach the pass, set, hit tempo from behind the volleyball ten foot line.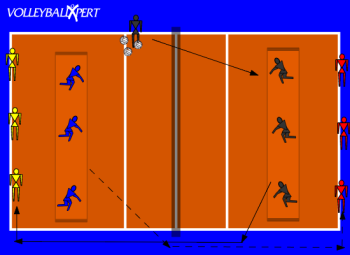 Setup
1. Divide into teams of 3 players each
2. Coach to the side with volleyballs
Instructions
1. Start with two teams of 3 on each side of the court, with 2 more teams of 3 waiting behind each serving line.
2. Coach starts drill with a free ball toss. Teams try to pass, set, hit the ball to the other team, but MUST stay behind the ten foot line.
3. If a team of 3 commits an error, they are out of the drill, having been eliminated.
4. As soon as a team of 3 hits the ball over the net successfully, they rotate off and enter behind the opposite side of the court.
5. When there are only two teams of three left in the drill, they play one more ball to determine who the winning team is. That team earns a point for their team.
6. Play until a certain amount of points have been earned.
Variations
1. Can play without the elimination rule, and just have teams rotate back in from the back row.
2. Can begin the drill with a serve in instead of a tossed ball from the coach.
Coaching Points
1. Watch to make sure players are leaving the ground from behind the ten foot line when hitting the ball.
View Count: 28045