Volleyball Ball Control Elimination
This elimination drill teaches players how to pin point exactly where they want their hit to go.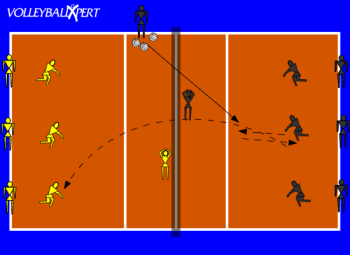 Setup
1. Three back row passers on each side of the net
2. Coach tossing balls in
3. Setter on both sides of net
4. Passer lines on both sides
Instructions
1. Coach initiates drill with a free ball toss into one side (should be close to the ten foot line)
2. Back row passer, moves up to make a good pass to the setter and quickly backs up to get ready to hit the ball
3. Setter sets to the player who passed them the ball
4. Hitter hits the ball over the net, trying to hit it to an opposing player (NOT trying to hit the ground, trying to keep the rally going)
5. If it's not a hit directly to the opposing player, that player is out of the drill and a new player slides into their spot.
6. The drill continues until there is only one player left.
Variations
1. You can have one player serve the ball to begin the drill.
Coaching Points
1. Watch for players who are not aiming for their target.
View Count: 30966