Volleyball Ball Control: Two person Four Square
This volleyball drill increases accuracy in down balls to desired locations while also increasing communication skills between players.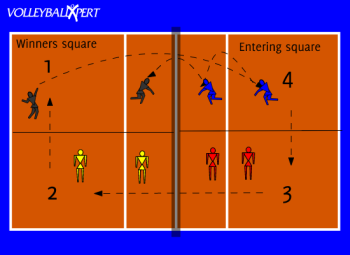 Setup
1. Volleyball court divided into half longways to make four total squares.
Instructions
1. Players should understand that square 1 is the desired square and always serves the volleyball.
2. Teams of two: pass, set, and hit controlled down balls to team on opposite side of net.
3. Players should try to keep ball in play by controlling where their down ball goes to.
4. If a team makes an error or lets the ball hit their half of the court, they rotate off.
5. New team of two rotates into to square four, hoping to make it around to square 1, the serving square.
6. Play for a set amount of time, the team who ends in square 1 when time is up is the winning team!
Variations
1. Keep score if desired.
Coaching Points
1. Encouraging team to keep ball in play.
View Count: 39131