Volleyball Double Serving Game
This volleyball drill teaches the importance of trying your best for every point and trying to get every ball!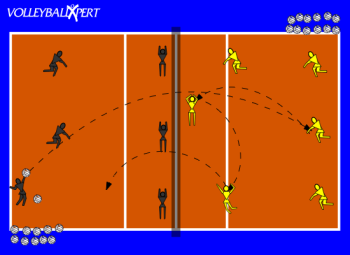 Setup
1. Two teams of six
2. 12 volleyballs per team
Instructions
1. Set up is the same as for a game, one team of 6 per side of the net
2. Each team starts out with 12 volleyballs
3. The first team serves twice. The team that wins each rally gets to keep that volleyball.
4. Each team serves twice, then the opposing team serves twice. Teams rotate when they acquire the serve back.
5. The team that finishes with the most volleyballs at the end wins.
Variations
1. Can make it the end of the game after one complete team rotation.
Coaching Points
1. Coaches are watching to make sure players are giving their 100% effort for every ball served.
View Count: 31146