Volleyball Footwork Drill
This drill will focus on all the necessary footwork to be a middle hitter and blocker.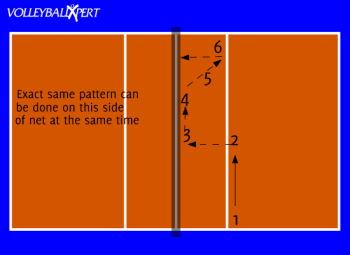 Setup
1. Two lines, one on each side of the court in the left front position
Instructions
1. Coach will need to demonstrate and call out directions until all players understand the footwork routine.
2. Starting at position 1 - Shuffle into hitting position
2 - Approach the net for a hit
4 - Crossover step outside and block again
5 - Transition off the net
6 - Approach the net for a hit
7- Go to the end of the line
Variations
1. Only use one side of the net and put one or two blockers on the other side of the net to practice fronting the hitter.
Coaching Points
1. Make sure the players are using the correct foot on the crossover step
View Count: 32695