"W" Passing Drill
This is a great passing drill for beginners to learn to move to the ball and pass to the setter position.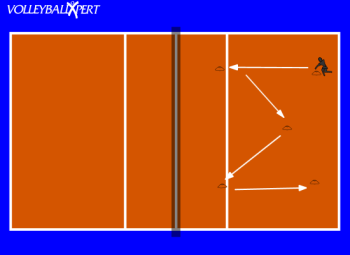 Setup
Volleyballs for coach to toss
Line of players at the right back (server) position
5 poly spots markers to show them where to pass from
Instructions
The coach is at the front of the net tossing balls to the players in five different positions.
The line of players starts at right back (server) position.
When the coach signals, they toss a ball to the passer. The passer passes the ball to the target, then quickly runs to right front for a short toss from the coach.
The player then quickly back pedals to middle back for a third pass, then quickly to left front for a short toss from the coach.
The player then moves quickly to the left back for the last toss.
Each player should pass five volleyballs in one turn, shag 5 volleyballs, then return to the passing line.
Variations
Coaches can make the players pass to the first five positions, then double back. Making a W and then a second W back to the starting position. This would give each player 9 passes.
Coaches can insist that the players at least get "a hand" on the volleyball. At least touching it if a good pass is not able to be done.
Use this drill with the overhand pass too.
Coach can positon themself across the net from the players also. In higher levels of ability, coaches can do down ball hits instead of tosses.
Coaching Points
Slap the ball to signal the beginning of the drill.
Encourage players to get on the floor for the short passes in left front and right front.
Players should be "calling the ball" on each and every pass.
View Count: 43239