Warm-up with Wall
A warm-up time for each player to warm up arms and shoulders before practice begins and at the same time be working on basic skills and ball control.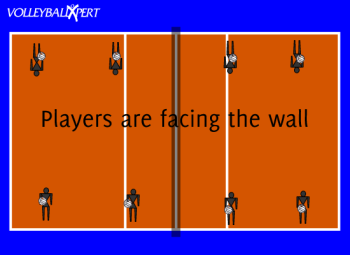 Setup
Each player has their own volleyball and finds a space on the wall where they will have room to move and practice alone.
Instructions
Players are given a number for the entire warm-up time. For example, "10." They will go through each skill that number of times each. Coaches can list skills on a board until players have learned the routine. They work on these alone, not with a partner.
Example: Number is 10
10 - two arm throws against the wall
10- right arm throws against the wall
10- left arm throws against the wall
10- backwards above the head throw against the wall (players back will be to wall)
10- passes to wall
10- sets to wall
10- short serves to wall
10- hit to floor (down ball motion)
REPEAT
Variations
*Coaches can change and/or add different drills or skills for the warm-up pattern
Coaching Points
*Coaches can change numbers for different players based on ability
View Count: 35641